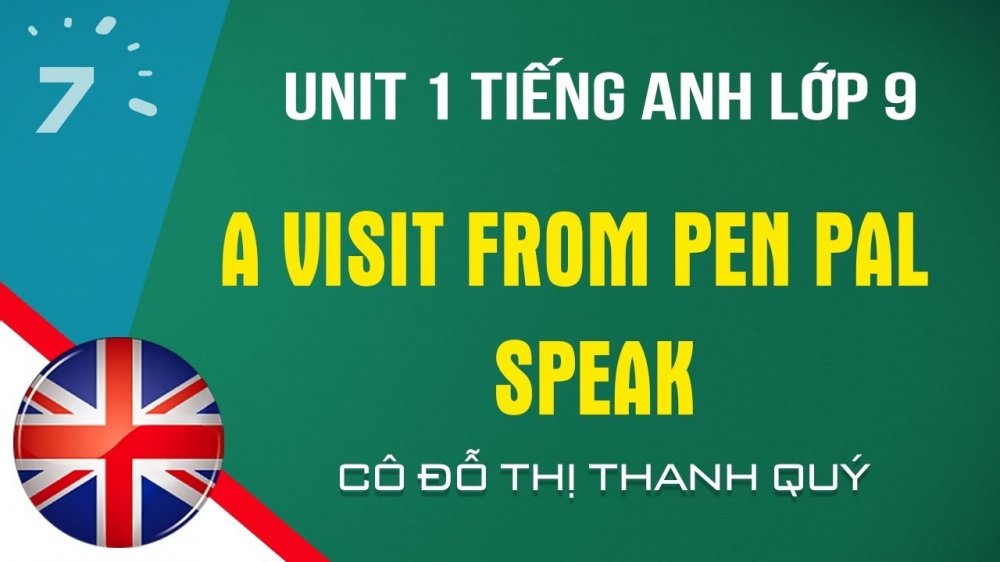 TIẾNG ANH 9 UNIT 1
I. Put the verbs in the following sentences into the past simple tense (affirmative and negative):

0. They live here. -> (+) They lived here. (-) They didn't live here.
1. We see her on Sundays.
2. James speaks slowly.
3. They are very friendly.
4. She is really impressed by the beauty of the city.
5. The children enjoy the party.
6. My mother sleeps badly.
7. I know how to do this.
8. Tom cleans the floor.
9. They paint the house.
10. Mary stays with her uncle.
II. Change the following sentences into Yes/No questions:
0. They wrote the document two days ago.-> Did they write the document two days ago?
1. She met jane at fine.
2. You ate too much.
3. I had breakfast at 8.00 this morning.
4. They learned Japanese last year.
5. We arrived at 10 PM.
6. She did her homwork this afternoon.
7. My brother worked as a doctor.
8. Tom was sick.
9. I walked to the office.
10. My parents understood me.
III. Put in the past simple form of the verbs in the brackets:
An American jet pilot (take off) ………… from Port Worth, but the jet's engines (go)………….
Wrong. The pilot (eject) ………….., but the plane (not/crash) …………………. The engines (begin) …………………. working again. The jet (fly) …………….. for more than one hour over three states. Fnally, it (crash) ……………near Lincoln, nebraska. It (hit) …………. Some trees in a field. Fortunately, no one (be) ………… hurt.
IV. Complete the conversation. Put in the past simple tense:
 + Did you have (you/ have) a nice trip to Vietnam?
 + Yes, thanks. It was a wonderful trip!
 + What sights (you / see) …………………………..
 + Well, my friend Lan (take) ……… me to a lot of beautiful sights in Hanoi. We also (visit) …………. some historical places such as Hoam kiem lake, Ho Chi Minh's Mausoleum, the History Museum, Van Mieu and so on.
 + (you/go) ……………………………….. to a mosque in Hanoi?
 + Yes, I (come) …….. to pray in the mosque on hamg Luoc street. And on the weekend, we (go) to see a show.
 + What show (you/go) …………………………………… to?
 + Oh, a musical. I forget the name. I (not/like) …………………………………it.
 + Oh, dear. And (Lan/enjoy) ……………………………………………. it?
No, not really. But we (enjoy) ………………………. the weekend.
V.Rewrite the sentences, beginning with " I wish":
1. They don't come here on time.
2. It rains heavyly.
3. She won't go Hanoi with me tomorrow.
4. Tom can help me.
5. My sister isn't here .
6. He never goes to school on time.
7. He fails the final exam.
8. I'm sorry, I must go now.
9. She'll her house next week.
10. Mary doesn't stay at home on Sundays.
VI. Make a cross on the correct answer A, B, C, and D in the following sentences:
1.We are really ……………. by the beauty of Ha long bay.
   A. impress                    B. to impress               C. impressed               D. impressing
2. He made a deep ……………….on the members of his speaking English club.
   A. impress                    B. to impress               C. impressed               D. impressing
3. His ………………..made us happy.
   A. unfriendly                 B. friendly                   C. unfriendliness          D. friendliness
4. A lot of ……………….. come to Van mieu everyday.
   A. visitor                      B. visitors                    C. visiting                   D. visited
5. What was he doing when you …………….?
   A. come                       B. to come                   C. came                      D. coming
6. The Smiths enjoyed the ………………. Atmosphere in Vietnam.
   A. peace                       B. peaceful                  C. peacefully               D. peacetime
7. Hanoi is not ………… from Kuala Lumpur
   A. difference                 B. different                  C. differ                      D. differently
8. We went to see many ………………… places in Hanoi last year.
   A. fame                        B. famous                    C. famously                 D. famousness
9. The …………. language in Malaysia is Bahasa Malaysia.
   A. nation                      B. national                  C. nationally                D. nationality
10. I wish Mary ……………….harder for her examination.
   A. will work                  B. worked                    C. has worked              D. works
11. It's very kind ……….. you to say so.
   A. in                            B. to                           C. for                          D. of
12. Can you tell me how many chapters this book consists ……….. ?
   A. of                            B. to                           C. with                        D. in
13. Vietnamese people are very …………….. and hospitable.
   A. friend                       B. friendless                C. friendly                   D. friendship
14. I come from Vietnam, so I am not used to ………… on the left.
   A. drive                        B. drove                      C. driven                     D. driving
15. Although we are far away from each other, we still …………….
   A. keep in touch            B. say hello                 C. keep together           D. keep on
16. Music and paiting are ……………….. subjects.
   A. option                      B. optional                  C. optionally                D. optioning
17. The children are playing ………………….. in the school yard.
   A. happy                      B. happily                   C. happiness                D. unhappy
18. I wish they ……………….. here tomorrow.
   A. will come                 B. would come             C. come                      D. came
19. They …………….. to Dalat in summer when they were young.
   A. use to go                   B. used to go                C. are used to go          D. used to going
20. Lan ………………. writing to Maryam every month.
   A. uses to                     B. used to                    C. is used to                D. was used to
21. The malaysian unit of  currency is the ……………………
   A. dong                        B. ringit                      C. dollar                      D. yen
22. Maryam often goes to the ……………… to pray because her religion is Islam.
   A. church                     B. pagoda                    C. temple                    D. mosque
23. He ……………… English for 4 years.
   A. learns                      B. learnt                      C. will learn                D. has learnt
24. Maths and Litterature are ……………… subjects for children in Vietnam.
   A. primary                    B. compulsory              C. optional                  D. national
25. They used to ……………. swimming in the afternoon.
   A. go                            B. going                      C. went                       D. gone
26. The United States has a ………………………. of around 250 million.
   A. population                B. separation               C. addition                  D. introduction
27. He wishes he ……………… a pilot.
   A. is                             B. were                       C. will be                    D. would be
28. I would rather you ………………… the test well.
   A. do                            B. did                         C. done                       D. to do
29. It's time we ………………….. the bus
   A. catch                       B. caught                     C. to catch                   D. catching
30.Nam wishes he ……….. Thanh some money for her rent but he's broke himself.
   A. can lend                   B. would lend              C. could lend               D. lend  
 VII. Read the letter. Then answer the questions:
       Dear Mai,
       I'm very pleased that we are going to be a penpals. I'll tell you a little about myself, and you can do the same when you write to me.
      I live in an area of London called Maida Vale. It's quite near the centre, but there are parks nearby where I often take my dog, Mickey, for a walk. I live with my parents and my younger brother, Paul. My father works for the post office and my mother has a part-time job as a nurse.
      I go to the local comprehensive school, where I have a lot of friends. I like most subjects, but not all of them. In the evening, I sometimes visit my friendds or stay at home and listen to music, and at tteh weekend I like going swimming or horse-riding.
      At the moment I'm working very hard because I have exams soon, so I'm spending a lot of time in the library.
      I'm looking forward to hearing from you. Write soon.
      Best wishes,
       Mary
1. What's Mai's penpal's name?
2. Where does she live?
3. Who does she live with?
4. What does her father do?
5. What does her mother do?
6. What school does she go to?
7.What are her hobbies?
8. Why does she have to work very hard now?
VIII. With the cues given, write a lettter to your penpal:
I / just/ return/ four-day trip/ to Dalat/ my parents.

The trip/ be/ very interesting, and I/ be/ eager/ to tell you about it.

We/ stay/ mini hotel/ Xuan Huong lake.

Walk/ around the lake/ enjoy/ the fresh cool air, we/ feel/ very comfortable.

We/ also/ visit/ a lot of famous places/ such/ Prenn Waterfall/ Cam ly waterfall/ Lake of Sighs/ Bao dai palaces/ Dalat flower Park…

The weather/ be/ rather cold/ night, but it/ very cool/ during the day.

We/ enjoy/ ourselves so much.

Write/ me soon.
Dear Anne,
I have just returned form the foyr-day trip to Dalat with my parents……………………………………………………………